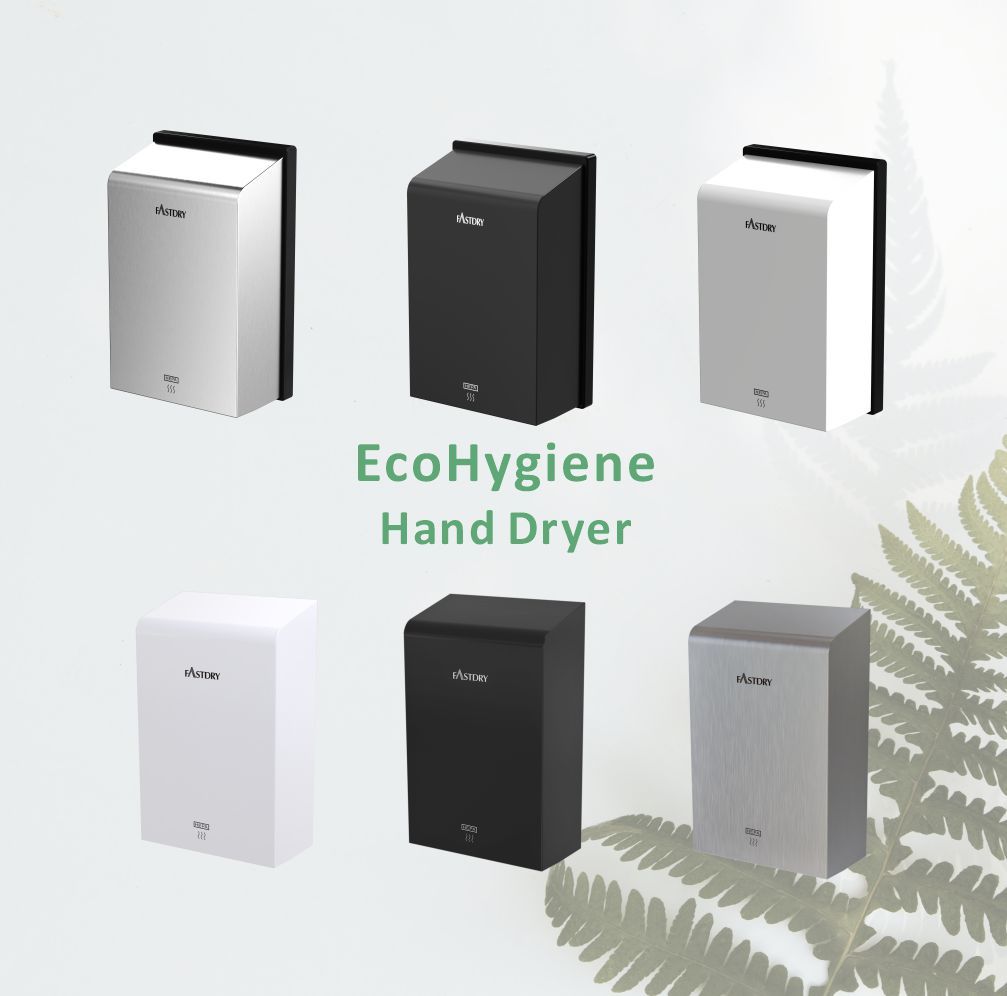 Hokwang Hand Dryer Update - EcoHygiene with HEPA Filter, a Plug-in Back Plate and UVC Light
Hands hygiene has been more important than ever in the post-pandemic era. People are searching for a more hygienic, yet environmental friendly way of drying hands. The solution will be the EcoHygiene hand dryer that has a HEPA filter and optional UVC Light!
---
17 May, 2023
With the inclusion of a HEAP filter, our EcoHygiene high speed hand dryer is quickly becoming a popular choice of hand dryer in the market. Not only is it powerful and ADA compliant, the built-in HEPA filter removes 99.95% of particles and viruses in the air. For places where additional sanitizing is required, there is also an optional UVC light that can provide peace of mind. The UVC light is contained inside the dryer and would be cut off when the dryer cover is opened, making it completely safe to use as the UVC light would not shine directly onto the user.
Hokwang is also making it easier to maintain the hand dryer for our customers. With a regular hand dryer, even a simple service of changing the filter would require calling for a qualified and licensed electrician to open the dryer cover, and the labor cost can add up over time.

To help making it easier, Hokwang has developed an optional plug-in back plate, which would allow the power cord of the EcoHygiene hand dryer to be connected to the Wago style connector on the plug in back plate. One can unfasten a screw and pull the hand dryer off the plug-in back plate easily. The power would be disconnected completely from the hand dryer and a simple service such as changing the filter would not require calling for a licensed electrician.
Another benefit for the plug-in back plate is that if for some reason a hand dryer needs to be replaced, it can be pull off from the plug-in back plate and a replacement unit can be put in immediately. By fastening a screw at the bottom of each hand dryer, the security of each unit is also ensured.

Contact us to learn more about this top hygienic and green high speed hand dryer!
Related Products

EcoHygiene01W

Another hygienic high speed hand dryer made by Hokwang! EcoHygiene hand dryer has a H13 HEPA filter that is built inside of the hand dryer mechanism, and it also...

Details

EcoHygiene01B

From cover to the inside mechanism, we design our EcoHygiene hand dryer to be an extremely hygienic ADA high speed hand dryer. EcoHygiene hand dryer has a H13 HEPA...

Details

EcoHygiene05

With the H13 HEPA filter built inside, the EcoHygiene high speed hand dryer in stainless steel 304 cover is a hygienic ADA compliant high speed hand dryer....

Details
Product Catalogue
Find the complete product information here.

Download
Hokwang Hand Dryer Update - EcoHygiene with HEPA Filter, a Plug-in Back Plate and UVC Light | Remote Control Heated Toilet Seat Manufacturer | Hokwang
Based in Taiwan since 1996, Hokwang Industries Co., Ltd. has been manufacturing hand dryers and soap dispensers. Their main bathroom and kitchen products include, bathroom hand dryers, stainless steel hand dryers, automatic soap dispensers for kitchen and bathroom, wall mounted soap dispensers, deck mounted soap dispensers, touchless soap dispensers, bathroom and kitchen water faucets and smart heated toilet seats with remote control, which pass WEEE and RoHS and are sold to 89 countries. Every touchless kitchen water faucet and soap dispenser, commercial bathroom hand dryer and smart heated toilet seat is tested at the highest level of quality control before shipment.
Hokwang, an ISO certified (ISO9001 and ISO14001), professional manufacturer in Taiwan, specializes in hand dryer, automatic soap dispenser, auto faucet, auto flush valve and automatic aerosol dispenser. We offer a complete washroom package to make the management of your facilities as easy as possible with our top quality HANDS FREE hygiene products. The main aim of HOKWANG is long term customer retention via exceptional levels of quality and customer service. With 20 years of bathroom hygiene industry experience, Hokwang has many customers who has started with us at the very beginning and is still with us today. We also receive the top marks of greater than 90% customer satisfaction every year on the survey.
Hokwang has been providing customers with commercial hand dryers, soap dispensers, water faucets and heated toilet seats with great customer satisfaction, both with advanced technology and 27 years of experience, Hokwang ensures that each customer's needs are met.