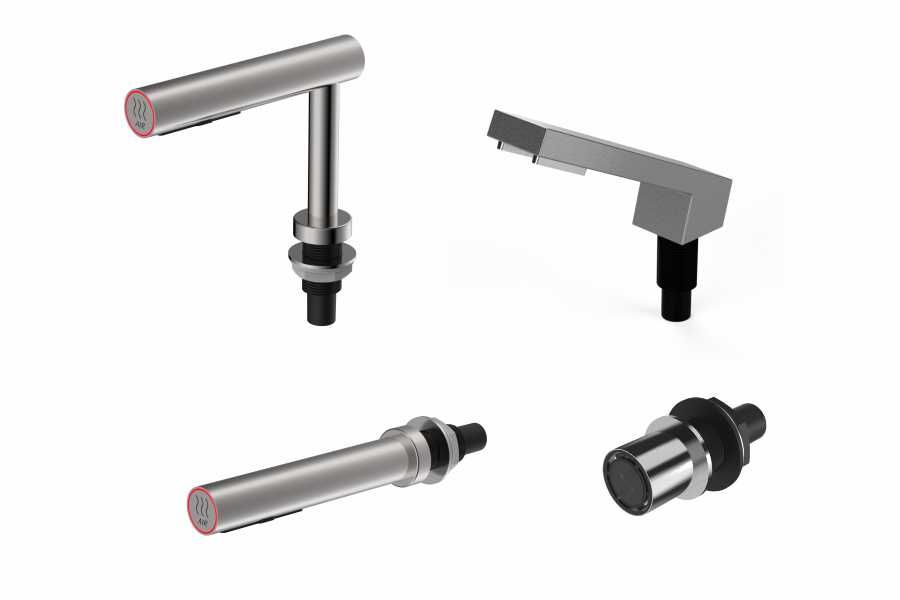 EcoTap High Speed Hand Dryer
Deck Mounted /Wall mounted Tap Hand Dryer - Quiet and Project Ideal
EcoTap is a deck mounted/wall mounted high speed tap hand dryer with optional HEPA filter. The hand dryer is hidden below deck or behind the wall with only the spout affixed to the wash basin/wall, which creates a new clutter-free washroom experience. Users can dry their hands right after they wash them. EcoTap hand dryer also simplifies the cleaning process because all water goes into the basin.
---
A special feature of our EcoTap hand dryer is the intelligent temperature control technology. It detects the room temperature, and adjust the heating element. Furthermore, the hand dryer automatically detects and uses the residual heat from the heater to reduce power consumption. The benefit is particularly apparent in high traffic locations.

EcoTap is also a quiet high speed hand dryer. The new patented air outlet reduced the noise level and increase the drying efficiency. EcoTap hand dryer is ideal for construction projects and automatic wash station.

The InnoWash HD Hand Dryer is developed to be more compact and flexible. With a simplified spout design, this is an ideal high speed hand dryer especially for limited spaces or behind the mirror installation.

Designers can also customized the deck mounted/wall mounted spout to match any washroom.
Product Catalogue
Find the complete product information here.

Download
EcoTap High Speed Hand Dryer - Deck Mounted /Wall mounted Tap Hand Dryer - Quiet and Project Ideal | Taiwan-Based High-Speed Hand Dryer & HEPA Hand Dryer Manufacturer | Hokwang Industries Co., Ltd.
Based in Taiwan since 1996, Hokwang Industries Co., Ltd. has been a hand dryer and soap dispenser manufacturer. Their main products, include EcoTap High Speed Hand Dryer, High Speed Hand Dryers, HEPA Hand Dryers, Behind The Mirror Hand Dryers, Deck-mounted Soap Dispensers, Top-refilled Soap Dispensers and Multi-Feed Soap dispensers, with over 200 patents and certifications.
Hokwang, an ISO certified (ISO9001 and ISO14001), professional manufacturer in Taiwan, specializes in hand dryer, automatic soap dispenser, auto faucet, auto flush valve and automatic aerosol dispenser. We offer a complete washroom package to make the management of your facilities as easy as possible with our top quality HANDS FREE hygiene products. The main aim of HOKWANG is long term customer retention via exceptional levels of quality and customer service.
Hokwang has been offering customers hand dryers and soap dispensers with great customer satisfaction, both with advanced technology and 25 years of experience, Hokwang ensures each customer's demands are met.