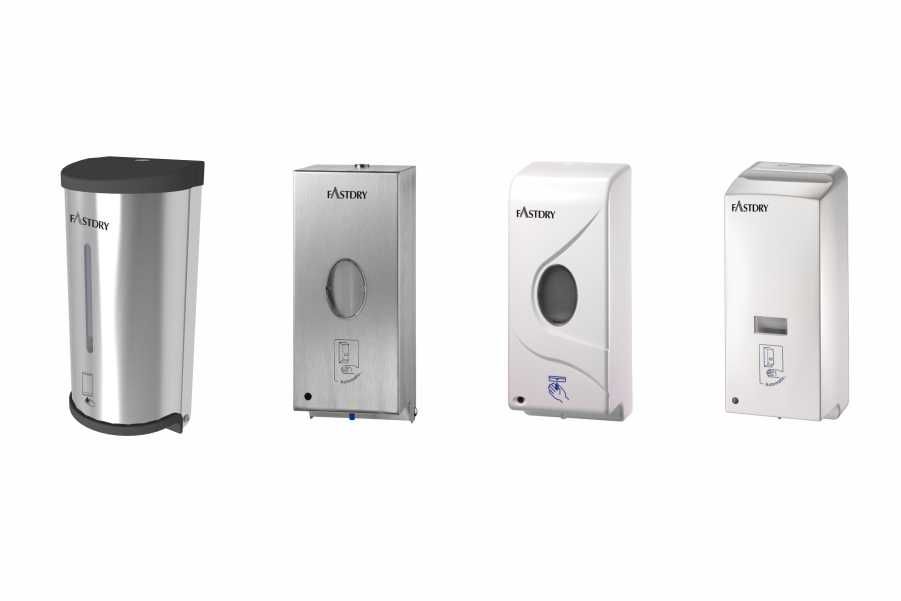 Auto Liquid Soap Dispenser
Commercial Liquid/ Sanitizer/ Detergent Soap Dispenser
For all of our wall mounted auto liquid dispenser, there is a smart LED indicator flash to indicate status such as low battery for the soap dispenser. You can also see the soap level on the front window of the soap dispenser. Moreover, our auto liquid soap dispensers can be refillable to reduce waste, and they are energy saving thus easier to maintain.
---
Auto liquid soap dispenser is the most common auto soap dispenser in the public washroom. Hokwang's use a simple yet stable mechanism to dispense liquid soap. Our auto liquid soap dispensers equip with a soap tube which is easy to clean. By using an optional alcohol-resistant silicone tube, it is also possible to use in the kitchen as a dish detergent dispenser or sanitizer dispenser to help everyone stay clean and stop the spread of germs.

Hokwang has the best and most eco-friendly solutions to reduce infection and improve hand hygiene by our auto liquid soap dispensers.
Product Catalogue
Find the complete product information here.

Download
Auto Liquid Soap Dispenser | Remote Control Heated Toilet Seat Manufacturer | Hokwang
Based in Taiwan since 1996, Hokwang Industries Co., Ltd. has been manufacturing hand dryers and soap dispensers. Their main bathroom and kitchen products include, Auto Liquid Soap Dispenser, bathroom hand dryers, stainless steel hand dryers, automatic soap dispensers for kitchen and bathroom, wall mounted soap dispensers, deck mounted soap dispensers, touchless soap dispensers, bathroom and kitchen water faucets and smart heated toilet seats with remote control, which pass WEEE and RoHS and are sold to 89 countries. Every touchless kitchen water faucet and soap dispenser, commercial bathroom hand dryer and smart heated toilet seat is tested at the highest level of quality control before shipment.
Hokwang, an ISO certified (ISO9001 and ISO14001), professional manufacturer in Taiwan, specializes in hand dryer, automatic soap dispenser, auto faucet, auto flush valve and automatic aerosol dispenser. We offer a complete washroom package to make the management of your facilities as easy as possible with our top quality HANDS FREE hygiene products. The main aim of HOKWANG is long term customer retention via exceptional levels of quality and customer service. With 20 years of bathroom hygiene industry experience, Hokwang has many customers who has started with us at the very beginning and is still with us today. We also receive the top marks of greater than 90% customer satisfaction every year on the survey.
Hokwang has been providing customers with commercial hand dryers, soap dispensers, water faucets and heated toilet seats with great customer satisfaction, both with advanced technology and 27 years of experience, Hokwang ensures that each customer's needs are met.