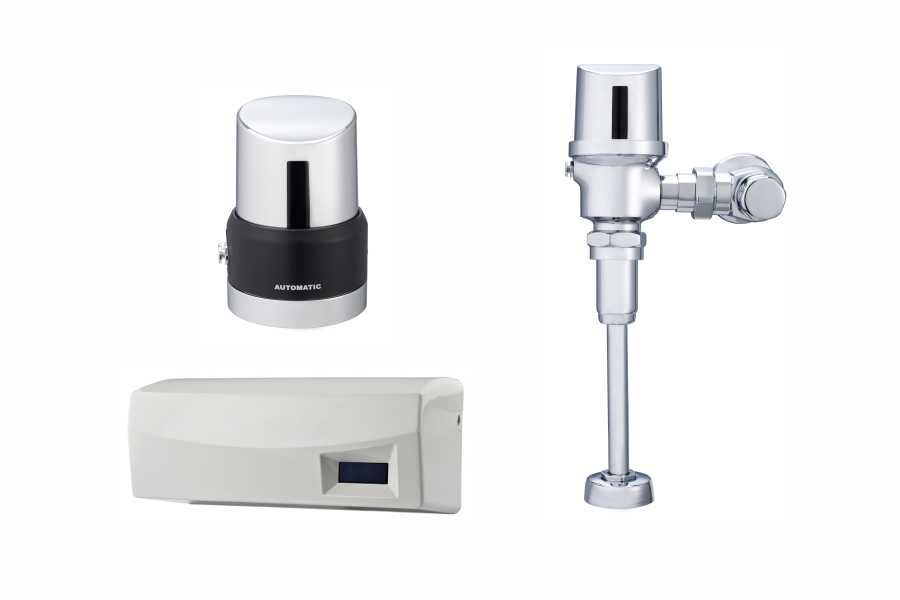 Auto Urinal Flush Valve
Full Range of Electronic Urinal Flush Valve
For each of Hokwang's auto urinal flush valves, the infrared sensor range, the flush time and the flush volume are all adjustable. The capability to modify the above mentioned functions makes Hokwang's urinal flushers suitable for any location, including but not limited to schools, sports stadiums, shopping malls, hospitals and office buildings...etc. Automatic urinal flushers are gaining popularity in public washrooms because the touch free function helps to create a more user friendly and hygienic environment.
---
Furthermore, the auto urinal flush valves produced by Hokwang all come with a smart and thoughtful function which allows the flusher to flush once automatically when it is unused for 24 hours to keep the urinal clean. In addition, there are many different options to choose from such as the exposed type or the concealed type. Therefore, our Made-in-Taiwan urinal flushers are the ideal options for a new or replacement flush valve for any restroom!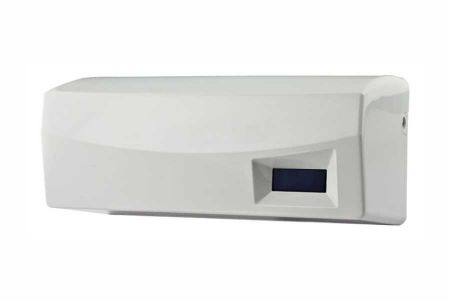 UF508
The wall-mounted auto urinal flush valve UF508 is a touch free urinal flusher with adjustable...
Details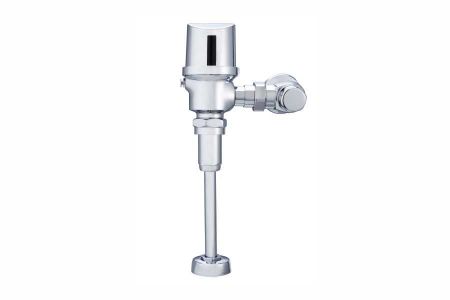 UF526DE
The electronic urinal flusher CF526DE is UPC certified with adjustable infrared sensor range...
Details
CF112
The flush valve retrofit kit CF112 can convert a manual toilet flush valve or a manual urinal...
Details
Product Catalogue
Find the complete product information here.

Download
Auto Urinal Flush Valve | Remote Control Heated Toilet Seat Manufacturer | Hokwang
Based in Taiwan since 1996, Hokwang Industries Co., Ltd. has been manufacturing hand dryers and soap dispensers. Their main bathroom and kitchen products include, Auto Urinal Flush Valve, bathroom hand dryers, stainless steel hand dryers, automatic soap dispensers for kitchen and bathroom, wall mounted soap dispensers, deck mounted soap dispensers, touchless soap dispensers, bathroom and kitchen water faucets and smart heated toilet seats with remote control, which pass WEEE and RoHS and are sold to 89 countries. Every touchless kitchen water faucet and soap dispenser, commercial bathroom hand dryer and smart heated toilet seat is tested at the highest level of quality control before shipment.
Hokwang, an ISO certified (ISO9001 and ISO14001), professional manufacturer in Taiwan, specializes in hand dryer, automatic soap dispenser, auto faucet, auto flush valve and automatic aerosol dispenser. We offer a complete washroom package to make the management of your facilities as easy as possible with our top quality HANDS FREE hygiene products. The main aim of HOKWANG is long term customer retention via exceptional levels of quality and customer service. With 20 years of bathroom hygiene industry experience, Hokwang has many customers who has started with us at the very beginning and is still with us today. We also receive the top marks of greater than 90% customer satisfaction every year on the survey.
Hokwang has been providing customers with commercial hand dryers, soap dispensers, water faucets and heated toilet seats with great customer satisfaction, both with advanced technology and 27 years of experience, Hokwang ensures that each customer's needs are met.