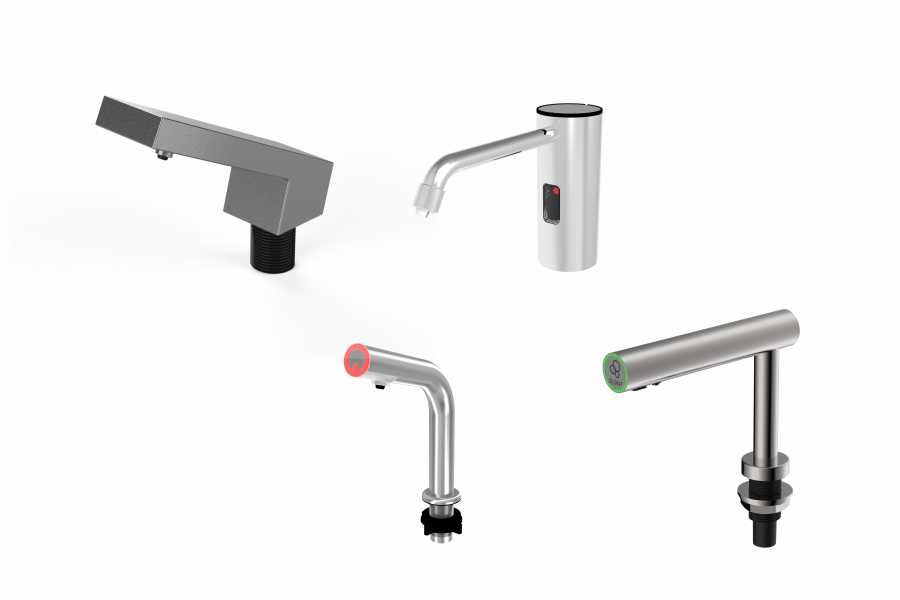 Auto Deck Mounted Soap Dispenser
Deck Mounted Foam/ Liquid Soap Dispenser - Integrated Washroom Design
Auto deck mounted soap dispenser has become a trend in construction projects. Users can have the soap and wash their hands without moving their hands out of the basin. This also simplifies the maintenance work because all water and soap goes into the basin. AC and DC models are both available depending on the accessibility to power in the washrooms. We all use stainless steel for the spout. This makes it easy for cleaning, appealing to the eye and eco-friendly to the earth.
---
Hokwang is one of the leading manufacturers who design a high quality and beautifully made deck mounted soap dispenser. Our deck mounted liquid/ foam soap dispenser can dispense either liquid soap or foam soap with a simple change of the pump.

We have adopted a new sensor technique for our deck mounted soap dispenser to prevent any interference at the sink. There is also a smart LED indication will notify the users when low soap or low battery with different blinking color.

Hokwang has the best and most eco-friendly solutions to reduce infection and improve hand hygiene with our automatic soap dispenser.
Product Catalogue
Find the complete product information here.

Download
Auto Deck Mounted Soap Dispenser | Remote Control Heated Toilet Seat Manufacturer | Hokwang
Based in Taiwan since 1996, Hokwang Industries Co., Ltd. has been manufacturing hand dryers and soap dispensers. Their main bathroom and kitchen products include, Auto Deck Mounted Soap Dispenser, bathroom hand dryers, stainless steel hand dryers, automatic soap dispensers for kitchen and bathroom, wall mounted soap dispensers, deck mounted soap dispensers, touchless soap dispensers, bathroom and kitchen water faucets and smart heated toilet seats with remote control, which pass WEEE and RoHS and are sold to 89 countries. Every touchless kitchen water faucet and soap dispenser, commercial bathroom hand dryer and smart heated toilet seat is tested at the highest level of quality control before shipment.
Hokwang, an ISO certified (ISO9001 and ISO14001), professional manufacturer in Taiwan, specializes in hand dryer, automatic soap dispenser, auto faucet, auto flush valve and automatic aerosol dispenser. We offer a complete washroom package to make the management of your facilities as easy as possible with our top quality HANDS FREE hygiene products. The main aim of HOKWANG is long term customer retention via exceptional levels of quality and customer service. With 20 years of bathroom hygiene industry experience, Hokwang has many customers who has started with us at the very beginning and is still with us today. We also receive the top marks of greater than 90% customer satisfaction every year on the survey.
Hokwang has been providing customers with commercial hand dryers, soap dispensers, water faucets and heated toilet seats with great customer satisfaction, both with advanced technology and 27 years of experience, Hokwang ensures that each customer's needs are met.