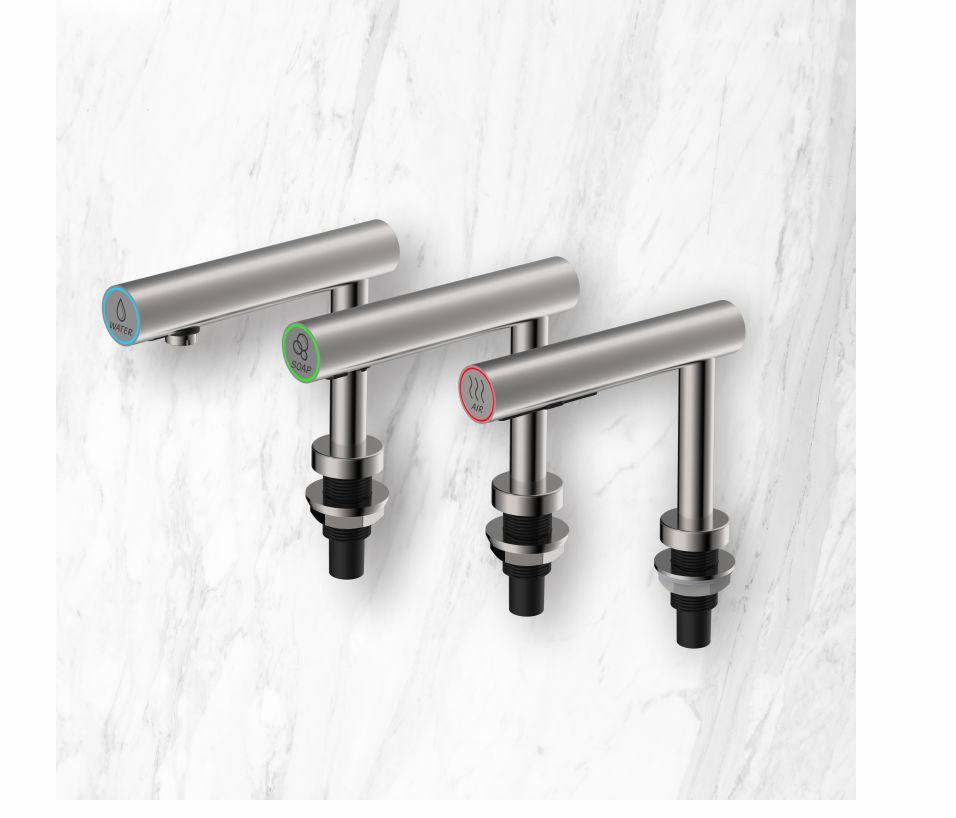 When should I refill the soap tank?
Having the auto soap dispensers work normally can optimize hands hygiene and also public health. This is especially essential nowadays when people are constantly fighting with contagious diseases. Ensuring the soap dispensers are filled with soap is one of the fundamental ways to keep the machine working.
---
Wall mounted auto soap dispenser:
For most of our wall mounted auto soap dispenser, there are transparent lens on the covers enable you to see how much soap left. Also, when the soap bottle is almost empty, you'll notice the decreased soap volume.
When you refill the soap dispensers, please make sure to remove the soap bottles from the control boxes. This way, you can protect the control boxes from being damaged by overflew liquid soap/foam soap.
HK-CSDT top refilled deck-mounted soap dispenser:
For deck mounted auto soap dispenser, the blinking green light on the LED indicator will remind you to refill the soap tank. Most of the deck-mounted soap dispensers have the soap bottles under the counter, and can be removed for refilling.

To further simplify the process of soap refilling for counter mounted soap dispensers, a top-refilled soap dispenser has become a trend in the market. We have developed two top-refilling soap dispenser system: the single-mounted HK-CSDT top refilled soap dispenser and the multi-feed HK-CSDTM soap dispenser.
There is soap level sensor in the soap bottle, and a blinking green light will remind the user to refill soap bottle. When the soap bottle is 85% full, the green light stops flashing and there's a beep sound to show it's time to stop refilling. We also designed the key as a funnel so it can be attached on the top of the soap dispenser, which makes the refilling even easier.
HK-CSDTM Multi-feed top refilled deck-mounted soap dispenser:
A multil-feed soap dispenser was designed for places with high traffics, as it saves the maintenance time and costs. Our HK-CSDTM multi-feed auto soap dispenser has a fill port with a ring of indication LED light and a small sound box underneath the countertop. The indication light will flash to notify maintenance staff to refill the soap. The smart sensor inside the soap tank will make the LED ring flash with sound to make a clear "stop" sign to maintenance staff.
Related Products

HK-MSD1

An automatic multi-function (foam/liquid/spray) soap dispensers which has a unique look in the hygiene...

Details

HK-CSD5R

The Auto Tube Deck Mounted Multi-Function Soap/Sanitizer Dispenser features a minimalist stainless...

Details