WHAT ARE ADA-COMPLIANT, ERP DIRECTIVE AND LEED FOR HAND DRYERS?
Various regulations or green standards can be requested for hand dryers and hygiene products when it comes to government bids or new projects. The ADA-compliant for a user-friendly feature, the ErP directive and LEED for environmental friendly features are commonly requested for commercial washroom products.
---
ADA-compliant hand dryer, auto soap dispenser, auto faucet:
Hand dryers, auto soap dispensers an auto faucets are mainly installed in public toilets, where the welfares of the disabled are highly valued. ADA is an abbreviation for Americans with Disabilities Act. It defines the accessible requirements for the design and construction of washroom space in the United states. EDF (European Disability Forum) in Europe shares similar ideas of promoting disability rights.

1. a hand dryer shall protrudes no more than 4 in (100 m) into walks, halls, corridors, passageways, or aisles.

2. for installation, the maximum mounting high forward reach allowed shall be 48 in (1220 mm). The minimum for low forward reach is 15 in (380 m).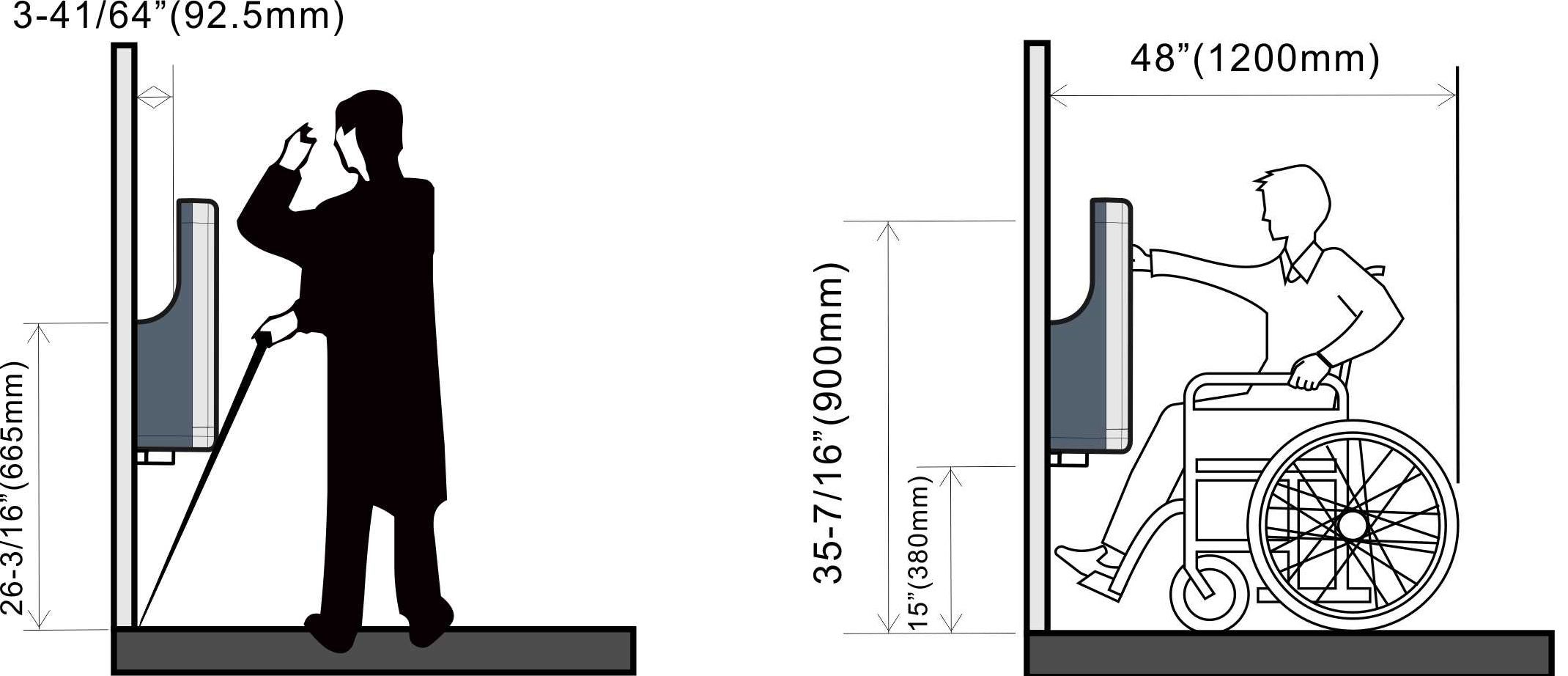 ADA-Compliant Installation
In terms of the installation, the spaces need to be kept for wheel chairs, the angles of the faucet, handles, etc. Overall, electric hand dryer, auto soap dispenser, sensor faucets and flush valves can be considered as user friendly as long as they were installed at the right heights and locations.
ErP Directive for Hand Dryer:
To make hand dryers more energy-saving is an endless pursuit. European Commission Regulation No. 1275/2008 came into force regulating requirements for standby and off mode electric power consumption of electrical and electronic household and office equipment. This regulation arises from the One Watt Initiative by the International Energy Agency (IEA). The regulations mandate "off mode" and standby power shall not exceed 0.5W.
Equipment must where appropriate provide off mode and/or standby mode when the equipment is connected to the mains power source. Although hand dryers are not directly regulated by this directive, Hokwang, being a pioneer in the hand dryer industry, has our high speed hand dryers equipped with several power-saving features. Except for the heater on/off functions, the standby power is less than 0.5W to comply with the ErP directive.
LEED credits that hand dryers can earn:
High Speed hand dryers can help projects qualify for LEED (Leadership in Energy and Environmental Design) credits. Instead of using paper towels, Meeting LEED requirements below;
1. Reducing energy consumption with fast dry times
2. Reducing the waste,
3. Improve operational cost

Hokwang high speed hand dryers may obtain the below LEED CREDITS (LEEDv4 Rating Systems).
LEED v4 for Building Design and Construction (BD+C)
-EA (Energy and Atmosphere) Prerequisite: Minimum Energy Performance
-EA (Energy and Atmosphere) Credit: Optimize Energy Performance
-MR (Materials and Resources) Credit: Building Product Disclosure and Optimization – Environmental Product Declaration
-MR(Materials and Resources) Credit: Building Product Disclosure and Optimization – Sourcing of Raw Materials
-EQ (Indoor Environmental Quality) Credit Green Cleaning

LEED v4 for Building Operations & Maintenance (O+M)
-EA (Energy and Atmosphere) Prerequisite: Minimum Energy Performance
-EA (Energy and Atmosphere) Credit: Optimize Energy Performance
-MR (Materials and Resources) Credit: Facility Maintenance and Renovation