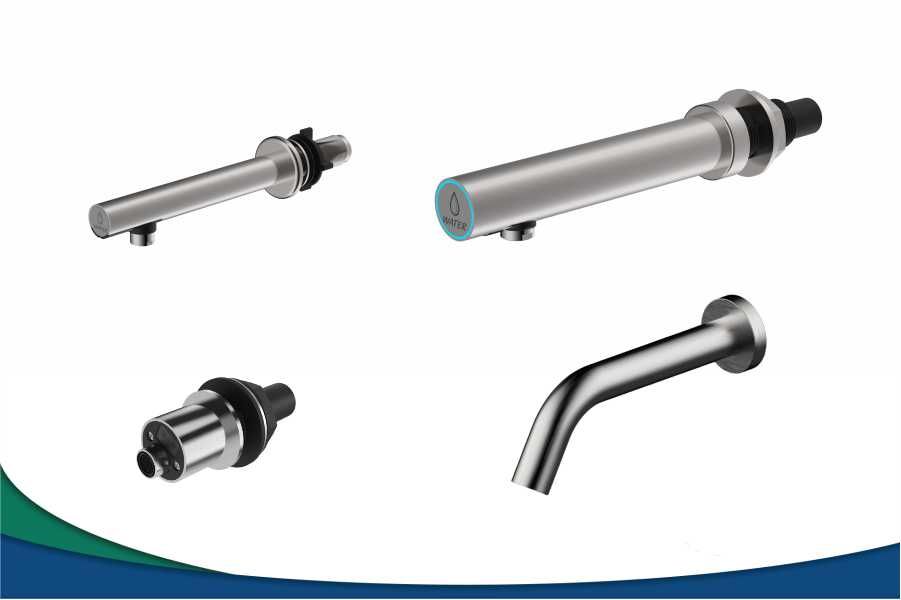 Auto Wall Mounted Faucet
Wall Mounted Electronic Faucet-Stainless Steel and Brass Chromed
Wall mounted automatic faucets are getting more and more popular nowadays especially for new constructions that have a behind-the-wall maintenance area. The reason for wall mounted faucets gaining their popularity is that they give commercial washrooms a clean and neat look as only the spout is protruded from the wall.
---
At Hokwang, there are currently three series of auto wall mounted faucets which are the AF33 series, the Ecotap – W series and the InnoWash FA auto faucet series.
The AF33 faucets are the all-in-one type that include all the mechanisms, such as the solenoid valve and the battery boxes, in the spout. Within this AF33 auto faucet series, there are both AC and DC types so the user can choose whichever is more suitable for any specific location.

Same as the other members in the EcoTap family, the EcoTap - W series are equipped with LED light indicator which adds more color to the hand washing experience. It also comes with a water saving function that will automatically cut off after continuous use of one minute. The InnoWash FA auto faucet provides a more compact option for limited spaces, such as the lavatory in trains or behind the mirror products. The spout design makes this auto faucet more flexible for projects of new constructions or renovations.
Product Catalogue
Find the complete product information here.

Download
Auto Wall Mounted Faucet - Wall Mounted Electronic Faucet-Stainless Steel and Brass Chromed | Taiwan-Based High-Speed Hand Dryer & HEPA Hand Dryer Manufacturer | Hokwang Industries Co., Ltd.
Based in Taiwan since 1996, Hokwang Industries Co., Ltd. has been a hand dryer and soap dispenser manufacturer. Their main products, include Auto Wall Mounted Faucet, High Speed Hand Dryers, HEPA Hand Dryers, Behind The Mirror Hand Dryers, Deck-mounted Soap Dispensers, Top-refilled Soap Dispensers and Multi-Feed Soap dispensers, with over 200 patents and certifications.
Hokwang, an ISO certified (ISO9001 and ISO14001), professional manufacturer in Taiwan, specializes in hand dryer, automatic soap dispenser, auto faucet, auto flush valve and automatic aerosol dispenser. We offer a complete washroom package to make the management of your facilities as easy as possible with our top quality HANDS FREE hygiene products. The main aim of HOKWANG is long term customer retention via exceptional levels of quality and customer service.
Hokwang has been offering customers hand dryers and soap dispensers with great customer satisfaction, both with advanced technology and 25 years of experience, Hokwang ensures each customer's demands are met.