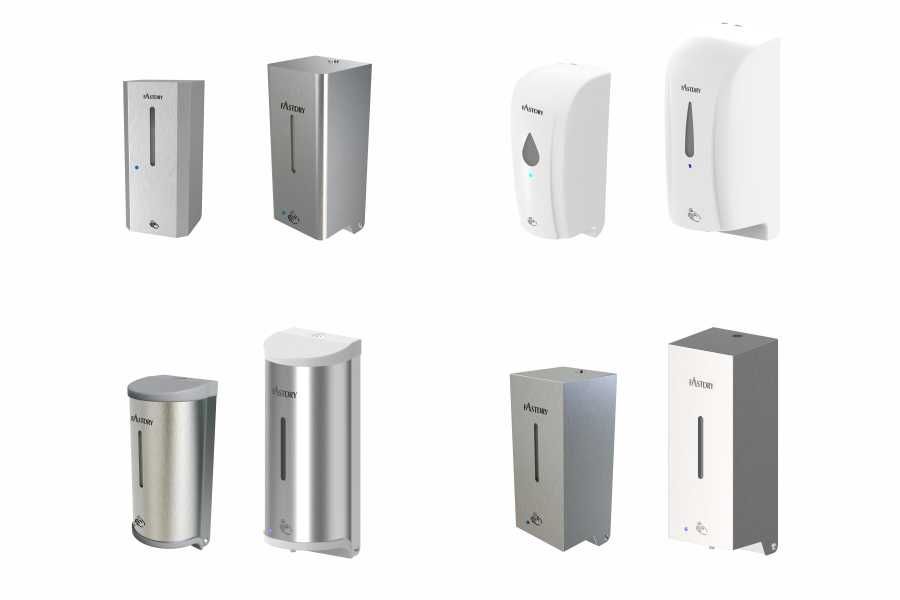 Auto Multi Function Soap Dispenser
Refillable Commercial Foam/ Liquid/ Sanitizer Soap Dispenser
Hokwang is proud to introduce our automatic multi-function (foam/liquid/spray) soap dispensers. A simple replacement of the soap pump can change the unit into a different type of automatic soap dispenser. We have three types of soap pumps, includes liquid soap, foam soap, and sanitizer spray type for you to choose. All three pumps are alcohol-resistant.
---
Besides its function, from Stainless to ABS plastic, from 500ml, 800ml, 1,000ml to 1200ml, there are also different styles and capacity of our auto soap dispenser to satisfy different requirements. Furthermore, this auto foam/liquid/spray dispenser can be refillable to reduce waste. In addition, it is an energy saving unit, the smart LED indicator can flash to indicate status low battery status for easier maintenance.

Hokwang has the best and most eco-friendly solutions to reduce infection and improve hand hygiene with our automatic multi-function soap dispenser.
Product Catalogue
Find the complete product information here.

Download
Auto Multi Function Soap Dispenser - Refillable Commercial Foam/ Liquid/ Sanitizer Soap Dispenser | Taiwan-Based High-Speed Hand Dryer & HEPA Hand Dryer Manufacturer | Hokwang Industries Co., Ltd.
Based in Taiwan since 1996, Hokwang Industries Co., Ltd. has been a hand dryer and soap dispenser manufacturer. Their main products, include Auto Multi Function Soap Dispenser, High Speed Hand Dryers, HEPA Hand Dryers, Behind The Mirror Hand Dryers, Deck-mounted Soap Dispensers, Top-refilled Soap Dispensers and Multi-Feed Soap dispensers, with over 200 patents and certifications.
Hokwang, an ISO certified (ISO9001 and ISO14001), professional manufacturer in Taiwan, specializes in hand dryer, automatic soap dispenser, auto faucet, auto flush valve and automatic aerosol dispenser. We offer a complete washroom package to make the management of your facilities as easy as possible with our top quality HANDS FREE hygiene products. The main aim of HOKWANG is long term customer retention via exceptional levels of quality and customer service.
Hokwang has been offering customers hand dryers and soap dispensers with great customer satisfaction, both with advanced technology and 25 years of experience, Hokwang ensures each customer's demands are met.