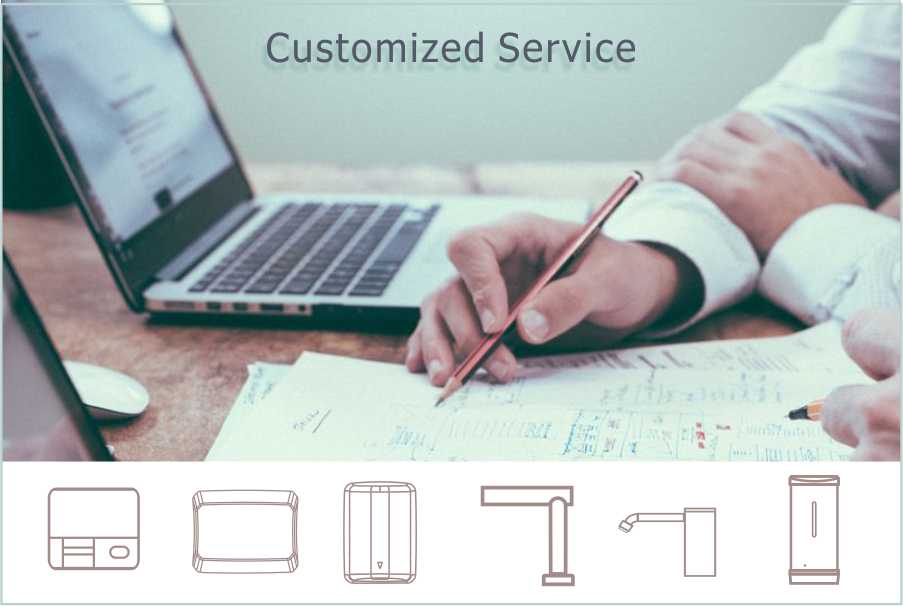 Customized Service
Customized Hand Dryer, Auto Soap Dispenser, Auto Faucet, and Auto Flush Valve
With over 20 years of experience in designing and manufacturing hand dryers and soap dispensers, Hokwang has all the knowledge and capabilities to provide customized products or total solution that fit all kinds of needs. Hokwang's customized service is very flexible. Whether you need a mirror cabinet/wash station system, brand new products, a different casing/cover appearance but with our inner structure, or simply just putting your logo on our current products, we are able to provide all of the above services for you. Please see the explanation for each service below.
---
Customized service is mainly required for new construction projects, such as renovating/replacing current units, showroom displays, or any unique purpose to fit different washrooms. For example, mirror cabinet and wash station system are the best solution to the these projects. Hokwang is able to supply the whole system including the mirror, the hand dryer, the soap dispenser, the auto faucet, the sanitizer, sink/basin, and the wooden or stainless steel cabinet in customized dimensions. Please see our Mirror Cabinet and Wash Station page for further information.

For new product development, Hokwang is able to work with customers to evaluate the best feasible design for the function and appearance needed, including the PCB logic and possible light indicators. The lead-time for developing a new product depends on the requirements and complexity.

Regarding having your own casing/cover appearance but with our standard inner structure, Hokwang can design the cover for you or we can also work on the drawing provided. After the design is confirmed, we will then quote the tooling for your consideration. The lead-time for making the new tool is generally one month. The actual lead time may vary slightly. Creating customized casing/cover is ideal when a "family look" is preferred across all different product range, which helps to provide a consistent impression for your brand.

As for putting your own logo on our standard products, the lead-time will be relatively short. It is about two weeks for sample orders and four weeks for bulk orders. Hokwang will be able to screen print, laser etch, or put a sticker of your logo on our products. Simply give us your logo in the AI format with size and pantone color code stated, then we will be able to provide this service for you.
Product Catalogue
Find the complete product information here.

Download
Customized Service - Customized Hand Dryer, Auto Soap Dispenser, Auto Faucet, and Auto Flush Valve | Taiwan-Based High-Speed Hand Dryer & HEPA Hand Dryer Manufacturer | Hokwang Industries Co., Ltd.
Based in Taiwan since 1996, Hokwang Industries Co., Ltd. has been a hand dryer and soap dispenser manufacturer. Their main products, include Customized Service, High Speed Hand Dryers, HEPA Hand Dryers, Behind The Mirror Hand Dryers, Deck-mounted Soap Dispensers, Top-refilled Soap Dispensers and Multi-Feed Soap dispensers, with over 200 patents and certifications.
Hokwang, an ISO certified (ISO9001 and ISO14001), professional manufacturer in Taiwan, specializes in hand dryer, automatic soap dispenser, auto faucet, auto flush valve and automatic aerosol dispenser. We offer a complete washroom package to make the management of your facilities as easy as possible with our top quality HANDS FREE hygiene products. The main aim of HOKWANG is long term customer retention via exceptional levels of quality and customer service.
Hokwang has been offering customers hand dryers and soap dispensers with great customer satisfaction, both with advanced technology and 25 years of experience, Hokwang ensures each customer's demands are met.