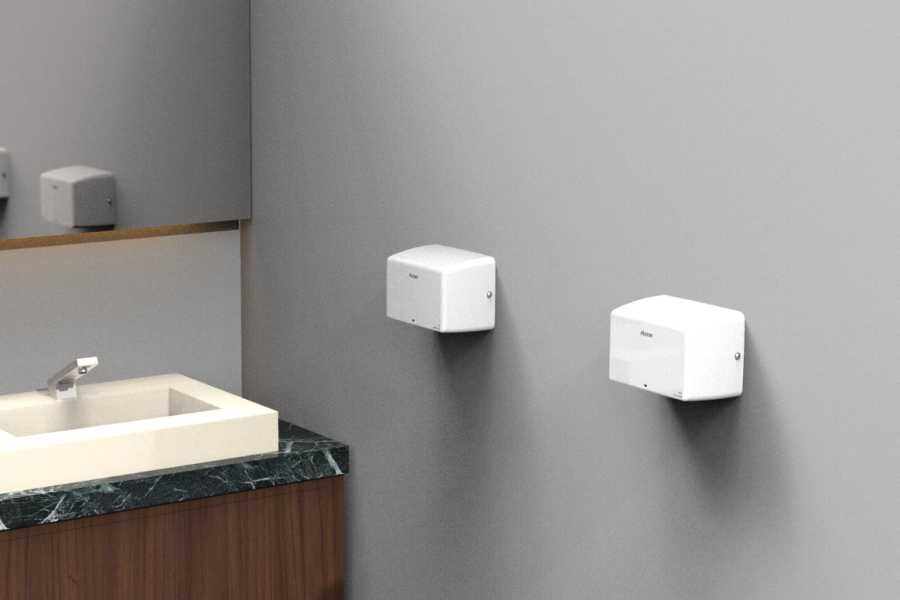 Brushless Motor Hand Dryer
Full Range of Fast Drying and Brushless Motor Hand Dryer
A brushless motor hand dryer can substantially cut down the costs and labors of the maintenance. It is especially true when commercial hand dryers are usually installed in public areas, such as train station, airports, theaters, shopping malls, etc, where the traffic is busy. Moreover, since the brushless hand dryer do not operated with carbon brushes, they're ideal for food industry.
---
Instead of purchasing an existing brushless motor in the market, Hokwang takes years of experiences and knowledge to design a brushless motor especially for our high speed hand dryers. The first model that is equipped with brushless motor is our EcoFast compact high speed hand dryer. We successfully transformed this economical high speed hand dryer to an advanced version. Except for the long life brushless motor (7-10 years), a built-in HEPA filter comes as a standard accessory. Last but not least, we kept all the hygienic, drying-efficient, and green features for the brushless motor hand dryer series.

Considering the market demands to a quiet high speed hand dryer, we specially look into the operation sound during development. We've made this new hand dryer range much quieter with sound level only 75dB at 1 meter. You can imagine it's much quieter than any other high speed hand dryers in the market, which often have sound level more than 80dB at 1 meter.

We in the meantime solved the troubles of stocking spare parts. This new brushless motor has universal voltage design and can be used on 110-240 volt hand dryers. The inventory control of spare motors will be much easier by taking Hokwang's brushless motor hand dryer.

Overall, a hand dryer with brushless motor is ideal for any washrooms for its long service life and easy maintenance. Please contact us to learn more or find more details on below product pages.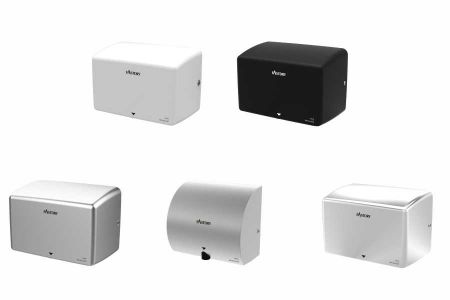 A brushless motor version of EcoFast high speed hand dryer has been launched to satisfy the market...
Product Catalogue
Find the complete product information here.

Download
Brushless Motor Hand Dryer | Remote Control Heated Toilet Seat Manufacturer | Hokwang
Based in Taiwan since 1996, Hokwang Industries Co., Ltd. has been manufacturing hand dryers and soap dispensers. Their main bathroom and kitchen products include, Brushless Motor Hand Dryer, bathroom hand dryers, stainless steel hand dryers, automatic soap dispensers for kitchen and bathroom, wall mounted soap dispensers, deck mounted soap dispensers, touchless soap dispensers, bathroom and kitchen water faucets and smart heated toilet seats with remote control, which pass WEEE and RoHS and are sold to 89 countries. Every touchless kitchen water faucet and soap dispenser, commercial bathroom hand dryer and smart heated toilet seat is tested at the highest level of quality control before shipment.
Hokwang, an ISO certified (ISO9001 and ISO14001), professional manufacturer in Taiwan, specializes in hand dryer, automatic soap dispenser, auto faucet, auto flush valve and automatic aerosol dispenser. We offer a complete washroom package to make the management of your facilities as easy as possible with our top quality HANDS FREE hygiene products. The main aim of HOKWANG is long term customer retention via exceptional levels of quality and customer service. With 20 years of bathroom hygiene industry experience, Hokwang has many customers who has started with us at the very beginning and is still with us today. We also receive the top marks of greater than 90% customer satisfaction every year on the survey.
Hokwang has been providing customers with commercial hand dryers, soap dispensers, water faucets and heated toilet seats with great customer satisfaction, both with advanced technology and 27 years of experience, Hokwang ensures that each customer's needs are met.