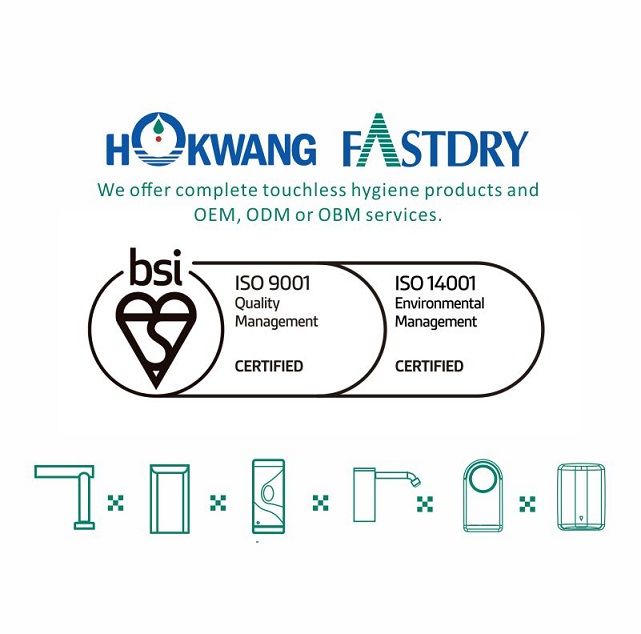 HEPA filters are already available for Hokwang's high speed hand dryer
We all know that the most effective way to keep hand hygiene till now is still washing hands by soap and DRY them thoroughly, whatever drying methods are. Hand dryers, being a suitable hand drying tool, have been recognized by WHO and the government officers in UK, USA and Japan, etc.
---
26 Jul, 2021
Moreover, high speed hand dryers can be mounted with filters or HEPA filter to further advance their hygienic feature. The main function of a HEPA filter is to filtrate particulates, which come in different sizes in the air. Despite most of the respiratory viruses, including coronavirus, is too small to be filtered, these viruses usually attach to other larger particles and therefore can be caught by the HEPA filter in this circumstances, reported on one of the news reports.

Hokwang has a complete range of high speed hand dryers, and we've designed the HEPA filters to satisfy customers' demands. We have two types of HEPA filters: one can be mounted at the bottom of hand dryer and the other can be hidden inside of the cover.

HEPA filter mounted at the bottom of hand dryer will be easy for replacement since you don't have to open the cover. The users can also notice the existence of the HEPA filter and be assured of the hygienic feature. The models that have this surface mounted HEPA filter includes: EcoSwift slim high speed hand dryer, EcoFast compact high speed hand dryer, EcoTap deck-mounted high speed hand dryer, HK-JA series powerful high speed hand dryer, and HK-JA LdB low noise high speed hand dryer.
It you're in pursuit of aesthetic appearance, the EcoHygiene and EcoMo high speed hand dryers can fulfill this demand. We have designed the inner structure of the EcoHygiene to build the HEPA filter inside of the cover. For the EcoMo wheel-chair friendly hand dryer, the super filter that composed of a carbon filter, and anti-bacteria filter and HEPA filter are hidden inside of the drawer of the hand dryer. Hence, the appearance of the hand dryers are in coordinate with the original casing designs.
Our experienced R&D team is also capable of designing a new casing to include a HEPA filter in our hand dryer. For any specific requirements of a hand dryer equipped with HEPA filter, please do not hesitate to contact us by email or the inquiry form below!
Related Products
Product Catalogue
Find the complete product information here.

Download
HEPA filters are already available for Hokwang's high speed hand dryer | Remote Control Heated Toilet Seat Manufacturer | Hokwang
Based in Taiwan since 1996, Hokwang Industries Co., Ltd. has been manufacturing hand dryers and soap dispensers. Their main bathroom and kitchen products include, bathroom hand dryers, stainless steel hand dryers, automatic soap dispensers for kitchen and bathroom, wall mounted soap dispensers, deck mounted soap dispensers, touchless soap dispensers, bathroom and kitchen water faucets and smart heated toilet seats with remote control, which pass WEEE and RoHS and are sold to 89 countries. Every touchless kitchen water faucet and soap dispenser, commercial bathroom hand dryer and smart heated toilet seat is tested at the highest level of quality control before shipment.
Hokwang, an ISO certified (ISO9001 and ISO14001), professional manufacturer in Taiwan, specializes in hand dryer, automatic soap dispenser, auto faucet, auto flush valve and automatic aerosol dispenser. We offer a complete washroom package to make the management of your facilities as easy as possible with our top quality HANDS FREE hygiene products. The main aim of HOKWANG is long term customer retention via exceptional levels of quality and customer service. With 20 years of bathroom hygiene industry experience, Hokwang has many customers who has started with us at the very beginning and is still with us today. We also receive the top marks of greater than 90% customer satisfaction every year on the survey.
Hokwang has been providing customers with commercial hand dryers, soap dispensers, water faucets and heated toilet seats with great customer satisfaction, both with advanced technology and 25 years of experience, Hokwang ensures that each customer's needs are met.