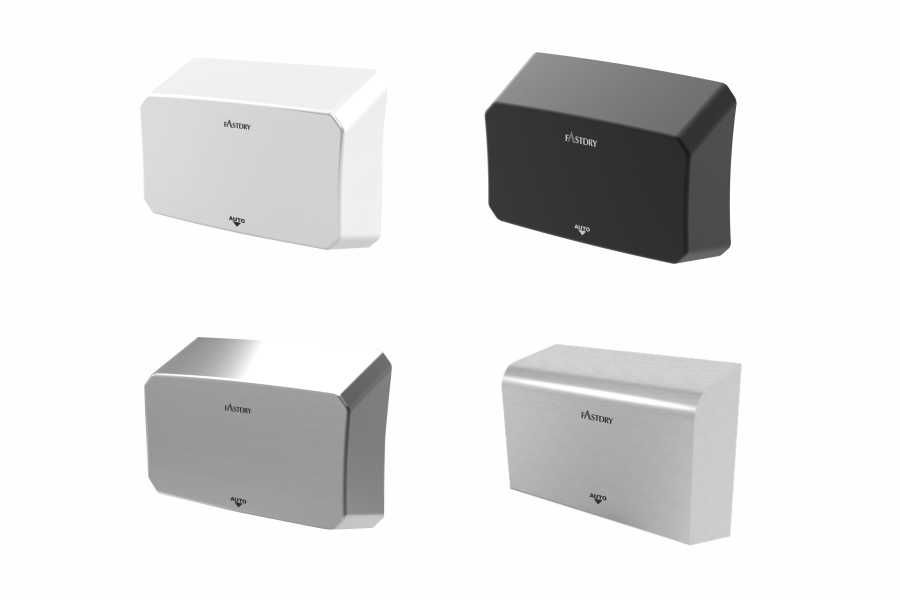 EcoSlender High Speed Hand Dryer
Slim ADA-compliant high speed hand dryer
EcoSlender is a slim high speed hand dryer with a sleek design. Hokwang is devoted to creating an accessible washroom environment. EcoSlender hand dryer is ADA-Compliant (Americans with Disabilities Act); its thin profile only protrudes 4 inches (10 cm) from the wall.
---
Moreover, EcoSlender hand dryer has patented parallel dual air outlets resulting in high drying efficiency with quiet operation. The slim hand dryer cover design also creates a wide drying area to allow hands to dry both naturally and comfortably. The main purpose of EcoSlender hand dryer is to make everyone's hand drying experience even more accommodating. White/matt black powder coated steel and stainless steel (satin/bright) are both available for EcoSlender hand dryer covers.
Product Catalogue
Find the complete product information here.

Download
EcoSlender High Speed Hand Dryer - Slim ADA-compliant high speed hand dryer | Taiwan-Based High-Speed Hand Dryer & HEPA Hand Dryer Manufacturer | Hokwang Industries Co., Ltd.
Based in Taiwan since 1996, Hokwang Industries Co., Ltd. has been a hand dryer and soap dispenser manufacturer. Their main products, include EcoSlender High Speed Hand Dryer, High Speed Hand Dryers, HEPA Hand Dryers, Behind The Mirror Hand Dryers, Deck-mounted Soap Dispensers, Top-refilled Soap Dispensers and Multi-Feed Soap dispensers, with over 200 patents and certifications.
Hokwang, an ISO certified (ISO9001 and ISO14001), professional manufacturer in Taiwan, specializes in hand dryer, automatic soap dispenser, auto faucet, auto flush valve and automatic aerosol dispenser. We offer a complete washroom package to make the management of your facilities as easy as possible with our top quality HANDS FREE hygiene products. The main aim of HOKWANG is long term customer retention via exceptional levels of quality and customer service.
Hokwang has been offering customers hand dryers and soap dispensers with great customer satisfaction, both with advanced technology and 25 years of experience, Hokwang ensures each customer's demands are met.