Mayor of New Taipei City Visited Hokwang
2017/02/17
Hokwang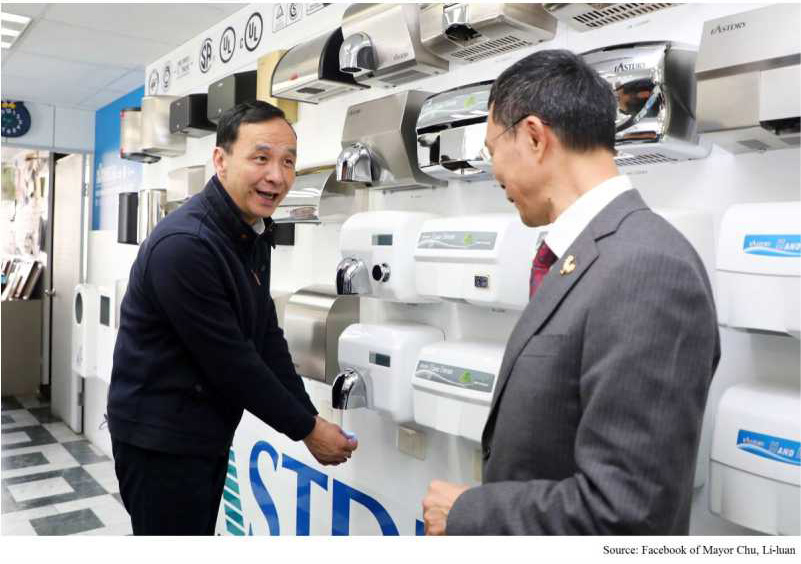 The Honorable Eric Chu, Mayor of New Taipei City, has visited Hokwang and praised the hard work and innovation of Hokwang in the automatic washroom equipment industry.

Hokwang Industries is the major manufacturer of hand dryers, soap dispensers, and other automatic washroom equipment in Asia. With clients in 88 countries around the world, high speed hand dryers are the main products of Hokwang. As of 2017, four of our products have won the prestigious Taiwan Excellence Award with many others receiving the certification of GreenSpec.

"Reducing carbon footprint" has always been the goal behind our design. We believe deeply that using hand dryers is more environmentally friendly and hygienic than using paper towel when drying hands. Through research and innovation, improvement in product durability, energy saving, and product design, we explore and create the demand of hand dryers both in Taiwan and overseas.

"Hands Free, Germ Free" is the idea behind the design of our soap dispensers. In the globalized world of today, having clean hands is one of the most effective ways of reducing the spread of diseases. With automatic soap dispensing, users no longer need to touch the dispenser when washing hands, and the possibility of spreading germs is reduced. We devote our energy and resources to improve the quality and life-cycle of our soap dispensers which stand out among our competitors.
Best Sale
Hokwang Mayor of New Taipei City Visited Hokwang Introduction
Hokwang Industries Co., Ltd. is Taiwan supplier and manufacturer in Bathroom Products Industry. Hokwang has been offering our customers high quality Hand dryer, soap dispenser, faucet, flush valve, high speed hand dryer, auto soap dispenser, auto faucet, auto flush valve, customized hand dryer since 1996. With both advanced technology and 30 years experience, Hokwang always make sure to meet each customer's demand.