Hokwang's Further Step for A Greener Environment: The EPDs from ULE
2018/02/08
Hokwang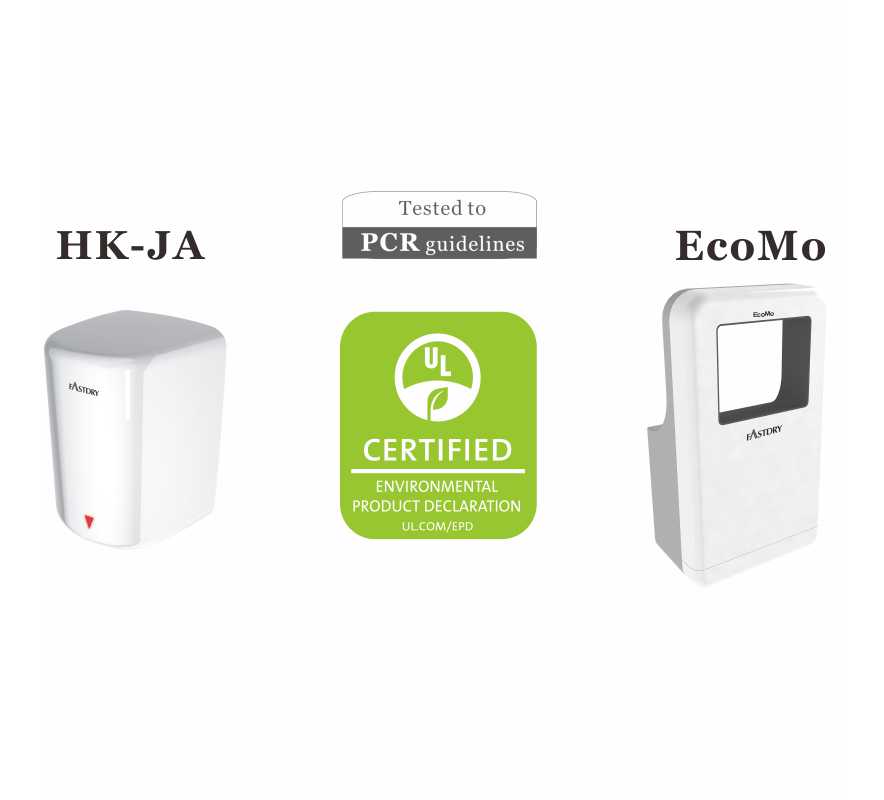 Hokwang has always valued the sustainability of natural resources. To raise the same awareness among all hand dryer manufacturers is our goal. Being the one and the only Asian hand dryer manufacturer who is one of the committee members of the Product Category Rules (PCR) for hand dryer published by UL Environment, Hokwang would like to ensure advancement of the hand dryer industry and the protection of the environment and the consumers.

The recently issued EPDs (Environmental Product Declaration) for Hokwang hand dryers are reports that assess the waste emission, the pollution, the drying efficiency, and the power consumption of hand dryers according to PCR guidelines. This time, Hokwang submitted EcoMo hand dryer and HK-JA hand dryer to test throughout their whole product life cycle – from cradle to grave.
The EPDs show that our EcoMo and HK-JA hand dryers have the features below:
Low power consumption: takes no more than 4.0Wh to dry hands
High drying efficiency: dries hands less than 10 seconds (residual moisture lower than 0.25g)
Low impact to the environment on fossil fuel depletion, global warming potential, acidification potential, among others, when compared to using paper as a drying method.
The goal of the EPDs is to give a neutral and transparent assessment of hand dryers for the public, the purchaser, and the consumer to make a better choice when selecting a green hand dryer.
If you want to learn more for hand dryer PCR, please visit:
http://industries.ul.com/wp-content/uploads/sites/2/2014/09/ULE_HandDryer_PCR_7-13-16.pdf
To review our EPDs, please visit:
https://spot.ulprospector.com/en/na/BuiltEnvironment/Suppliers/34170/HOKWANG-INDUSTRIES-CO-LTD
Or simply contact us, as Hokwang, the professional and ISO 9001 & 14001 certified hand dryer manufacturer knows what the best is when it comes to hand dryers.
Related Products

---
Best Sale
Hokwang Hokwang's Further Step for A Greener Environment: The EPDs from ULE Introduction
Hokwang Industries Co., Ltd. is Taiwan supplier and manufacturer in Bathroom Products Industry. Hokwang has been offering our customers high quality Hand dryer, soap dispenser, faucet, flush valve, high speed hand dryer, auto soap dispenser, auto faucet, auto flush valve, customized hand dryer since 1996. With both advanced technology and 30 years experience, Hokwang always make sure to meet each customer's demand.