Hokwang Offering cUPC, NSF/ANSI 61 and NSF/ANSI 372 Compliant Auto Faucets
2021/1/19
Hokwang
We at Hokwang have always been dedicated to the development of automatic hygiene products, including auto water taps. We are proud to announce that our new products in water tap range now have more models being cUPC and UPC approved, and NSF/ANSI 61 and NSF/ANSI 372 compliant!

As a part of touchless solutions in washrooms, these sensor activated faucets are not only elegantly designed with the highest quality, they are also made of lead free material and are safe to use for drinking water, which offer your customers peace of mind and allow the faucets to be sold in North America and wherever the standards are recognized.
UPC Certified Water Tap
Our AF370, AF372, AF376, AF377, and AF378 hands free water faucets are all approved by UPC and cUPC, and they are also NSF/ANSI 61 and NSF/ANSI 372 compliant. They come in different installation (wall-mounted and deck-mounted) and spouts. The elegant and classic designs can fit in all types of washroom designs and for kitchen sinks. The long life cycle solenoid valve can last for at least 500k times of use and they are all IP 66 level.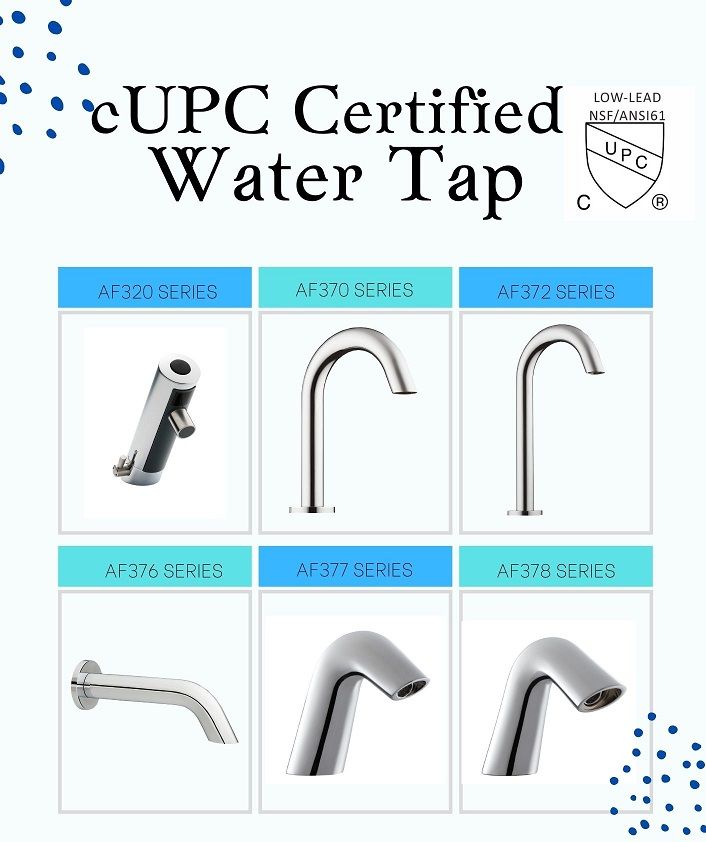 To find out more information about our lead-free auto faucets, please contact us by filling the inquiry form below or contact us directly.
Related Products

AF376

---

Made from Lead Free brass, this stylish wall mounted electric faucet is UPC certified. This means the water supplied by the AF376 hands-free faucet can safely used according to North America's regulation. Also, user doesn't have to touch anything to activate the faucet which is more hygienic and convenient to use.Knowing that each public restroom has different needs, AF376 can be operated by either DC (battery) or AC (plug). Based on 3000 uses per month, the battery can last for two years. This is because the AF376 electronic faucet consumes only 0.3W while idle, and 5W when in use.As the sensor is located near at the water outlet with the sensing range from 5 to 15 cm (1.97 – 5.91 inch), user's hands can be detected accurately. In addition, there is a smart protection that stops the water from flowing over one minute to prevent waste of water when there are objects/dirt on the sensor.To sum up, AF376 automatic faucet is durable and reliable while having a slim and modern look that is great for anyone who is looking for a wall mounted faucet.

---

AF377

---

Infrared sensor operated, the AF377 automatic deck mounted faucet has complied not only NSF/ANSI 372 but also NSF/ANSI 372. Complying with NSF/ANSI 372 means that the brass used are lead free (weighted lead content <0.25%). As for NSF/ANSI 61, it is the drinking water standard in North America. Thus, all the materials used in this hands-free faucet will not release harmful chemicals when the drinking water runs by. .On the other hand, the wires used have passed IP66 waterproof test. So, no matter how humid or wet the restroom is, this electronic faucet is always safe to use. In addition, the valve inside the faucet is designed with an auto cleaning function that reduce the possibility of being clogged. And, the valve has also been tested for over 500,000 life times. Therefore, AF377 deck mounted faucet is not only beautifully made but very reliable and durable.Last but not least, AF377 auto faucet is also user friendly. It can be operated by either AC or DC power. For DC, even though only four AA Alkaline batteries are needed, the power can last for two years based on the calculation that there are 3000 uses per month as it is very energy-saving.

---

---
Best Selling Item
Hokwang Hokwang Offering cUPC, NSF/ANSI 61 and NSF/ANSI 372 Compliant Auto Faucets Introduction
Hokwang Industries Co., Ltd. is Taiwan supplier and manufacturer in Bathroom Products Industry. Hokwang has been offering our customers high quality Hand dryer, soap dispenser, faucet, flush valve, high speed hand dryer, auto soap dispenser, auto faucet, auto flush valve, customized hand dryer since 1996. With both advanced technology and 30 years experience, Hokwang always make sure to meet each customer's demand.