What should I do if my commercial soap dispenser is clogged?
Hokwang has been designed and manufactured auto soap dispenser for more than 15 years. Our commercial auto soap dispensers has been distributed over the world, from America to Europe, from Asia to Australia. Therefore, we have the chance to receive different feedback from the auto soap dispenser market. One question that is frequently being asked is what should we do when the soap dispenser in commercial restroom is clogged? Before we answer this question, we should understand why the soap pump is clogged in the first place.
The two most commonly realized reasons are as follows:
1. Wrong soap type: usually happens with foam soap dispensers. Since there is a foaming net in the pump, if high viscosity liquid soap is used, the foaming net might be blocked which caused the foam soap pump clogged.
If incorrect soap type is the reason of clogged pump, depending on the condition of the current pump, user may simply clean/rinse off the remaining incorrect soap in the pump or change to a new foam soap pump.

2. Infrequent usage: this issue occurs more often with liquid soap as the viscosity is relatively high, and after unused for a while the soap may dry up and hardened inside the pump. If this is the case, use clean running water to wash out the remaining soap may solve the problem. Please see the video below for the instruction of cleaning and rinsing the pump.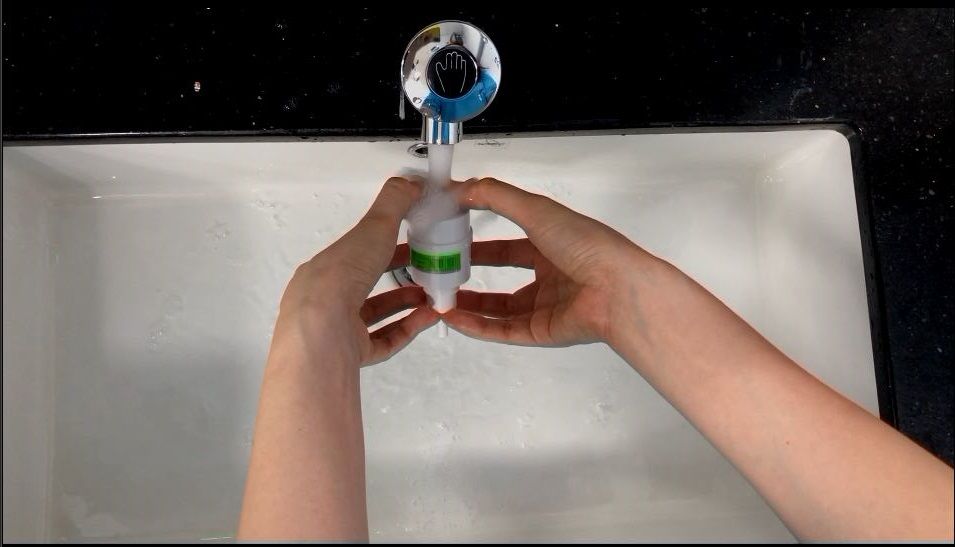 Use clean running water to wash out the remaining soap
These are the two common situations happened in the auto soap dispenser in commercial washrooms. However, if a disposable pump is used in the soap dispenser, or the soap pump itself is not robust enough to withstand high viscosity soap, our suggestions might not resolve the clogged soap pump.
All auto soap dispensers designed and made by Hokwang equipped with robust and long service life soap pumps, no matter wall-mounted or deck-mounted auto soap dispenser. Moreover, we specially designed our HK-CSD deck mounted soap dispenser series to prevent these two possible clogged problems:

1. Prevent from using the wrong soap: if incorrect soap type is used against the soap pump, a solid green LED light will indicate by showing different signals depending on the model.
Hokwang is confident to provide best solutions to your commercial restrooms, please feel free to contact us with your requests and we'll be more than happy to recommend the most suitable, and of course, non-clogging auto soap dispensers.
Video

How to clean Hokwang commercial soap pump when clogged

Related Products

HK-CSD4R

---

A wall mounted liquid/foam soap dispenser made of stainless steel #304. The spout of HK-CSD4R can be in satin finishing, polished stainless steel or PVD coated. If you are looking for a simple and clean look in the public restroom, this compact wall mounted soap dispenser will be the best fit in your design.

---

HK-CSD3

---

Auto deck mounted liquid/foam soap dispenser features the satin stainless steel spout is in effortless yet deliberated design. We have adopted a new sensor technique for our deck mounted soap dispenser to prevent any interference at the sink. Moreover, its smart LED indication will notify the users when low soap or low battery with different blinking color.

---

HK-CSD5R

---

A deck mounted liquid/foam soap and spray sanitizer dispenser in minimalist design: CSD5R. It is one of the example of simple and practical stainless steel hygiene products made by Hokwang.

---

---
Best Selling Item
Hokwang What should I do if my commercial soap dispenser is clogged? Introduction
Hokwang Industries Co., Ltd. is Taiwan supplier and manufacturer in Bathroom Products Industry. Hokwang has been offering our customers high quality Hand dryer, soap dispenser, faucet, flush valve, high speed hand dryer, auto soap dispenser, auto faucet, auto flush valve, customized hand dryer since 1996. With both advanced technology and 30 years experience, Hokwang always make sure to meet each customer's demand.