Use Touchless Soap Dispenser to ensure hands hygiene
What is the relation between Hand Soap Dispenser and HACCP System?
Hands hygiene is undoubtedly one of the most important factors for a food factory, and thus automatic hand sanitizing dispensers, auto faucet and high speed hand dryers are commonly installed to keep hand hygiene.
---
Hands Hygiene Is Key to HACCP
HACCP stands for Hazard Analysis Critical Control Point, it provides guidelines for how to identify, evaluate and control food safety starting from raw material/harvest to the finished product which includes production, purchasing, handling, manufacturing and distribution in the food chain. (Please refer to the FDA website for more information about HACCP.)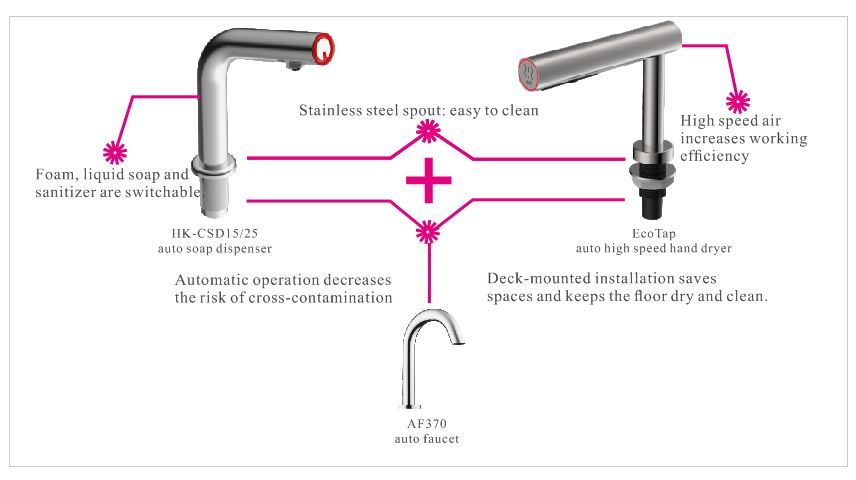 Yet, even before you would like to implement the HACCP system, there are prerequisite programs that need to be met. As you can imagine, one of the most critical requirements is personal hygiene, which relates to the importance of how do the staff wash and dry their hands. Therefore, automatic hygiene products (ex: automatic faucet, automatic soap dispenser and automatic hand dryer) will be further recommended to be used during the above mentioned procedure as they help avoiding clean hands to be re-contaminated by touching the equipment.

In addition, more and more companies are adding an extra step at the end of hand cleaning process with alcohol sanitizer. Yet, please note that the sanitizer, regardless in spray, foam or gel format, should contain at least 60% of alcohol to be effective in reducing the number of germs on hands. Moreover, automatic sanitizers are recommended over the traditional manuals one as well.
Touchless Soap Dispenser Helps Hands Hygiene
Hokwang provides all options for auto water tap, auto soap dispenser, auto sanitizer dispenser, and brushless motor high speed hand dryer. These touch free products can enhance hands hygiene and the food safety. Please contact us for more details of hygiene products in food industry.